Thrive Mosaic
Thrive Mosaic Framework
Thursday, October 7, 2021 
11:30 am – 1:00 pm 
Alumni Hall, Rm 206
Dr. Robbin Chapman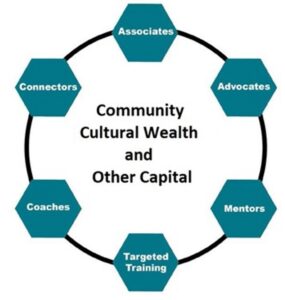 The Thrive Mosaic Mosaic is a professional development framework for equitable student and scholar development, access, and opportunity. Few issues in academia and industry are more complex than ensuring all scholars can thrive in the face of unwarranted or intentional disruptions to progress. The Thrive Mosaic leverages elements of the scholar's networks to ensure thriving and self-care by employing a systems-thinking approach to navigate elements of the "ecology of academia" that are important to Black, Indigenous, and people of color success and to drive White ally activism. Workshop participants will explore how to engage partners across their network, how to develop and activate their own framework, and  how leverage the Thrive Mosaic during various career stages.
This workshop is open to all graduate school students (PhD, MA, MFS, MLAS & MS) and postdocs.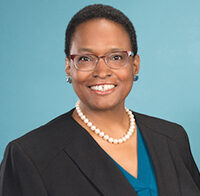 Robbin Chapman, Ph.D., is Associate Dean of Diversity, Inclusion, and Belonging at the Harvard Kennedy School, and Adjunct Associate Professor of Education at the Graduate School of Education, University of Pennsylvania. She previously served as Associate Provost and Academic Director of Diversity and Inclusion, and Lecturer in Education at Wellesley College, and Assistant Associate Provost for Faculty Equity at the Massachusetts Institute of Technology. While at Wellesley College, Dr. Chapman taught a design-focused course, Learning and Teaching in a Digital World, which challenged her students to re-imagine how learning flourishes in partnership with digital technologies. In 2016, MIT established the annual Dr. Robbin Chapman Excellence through Adversity Award to honor MIT senior and MIT graduate students whom have demonstrated excellence in leadership.
Dr. Chapman earned her S.M. and Ph.D. degrees in Electrical Engineering and Computer Science from the Massachusetts Institute of Technology where she conducted research at the MIT Artificial Intelligence Laboratory and the MIT Media Laboratory. She earned her B.S. in Computer Science at Brooklyn College of the City University of New York. Her research interests include design and use of computational tools for learning in public spaces, and frameworks and technologies for supporting scholar activism.
Recently, Dr. Chapman completed a two-year term as Sigma Xi Distinguished Lecturer, appointed by the Sigma Xi International Honor Society of Science and Engineering. She serves as Massachusetts regional liaison and senior fellow for the Ford Foundation Fellowship Program, administered through the National Academies of Sciences, Engineering, and Medicine. Dr. Chapman provides consults to academic and corporate institutions on transformative leadership, learning technologies for equity and social justice, and thriving in higher education environments. Currently, she is president of the Senior Ford Fellows Society and also serves on a number of non-profit boards.